PART VI OF VI
JUNE 20, 2005

(Note that we'll be back in three weeks instead of the usual two).



please:
pontificate
educate
illustrate
commentate (oh yeah)
and/or submit
by emailing us at tscq@interchg.ubc.ca




SO NOW WE CAN CALL OURSELVES A QUARTERLY (SORT OF).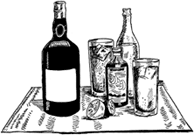 Dear Reader,

We are pleased to formally announce the completion of our first full issue, which is not only making us giddy with excitement, but is empirically valued at three months worth of experimentation with an (all told) accumulative and happy effort of 60 science pieces. To celebrate, we are holding a sort of retroactive yet ongoing contest to thank those who have already participated and to encouraged those who aim to submit new pieces for our second issue. The winner of this neat little trick will recieve an iPod Mini (4G version), although, how this winner is picked is up for much discussion. No doubt an algorithm will have to be construed that takes into account numerous awful and convoluted things like:

masthead eligibility,
previously published status,
eclecticness (is this a word?),
use of non-existent words,
google ranking,
hotness,
biographies that make us feel good about ourselves,
biographies that make us feel bad about ourselves,
etc, etc , etc.

We may even end up finding two favourites and giving away two iPod Shuffles instead. In any event, we figured that it is the least we can do.

Carry on.


THANKS FOR ALL THE BLOOD.
By David Secko
Blood donors around the world got a pat on the back last week, as the World Heath Organization (WHO) stamped June 14 "World Blood Day."
Everyday millions of people feel the jab of a donation needle, giving pints of blood that can help save lives, and last Tuesday was a chance to reflect on this generosity, said the WHO in their reasons for labeling the day.
<more>



OPEN LETTER TO THE KANSAS SCHOOL BOARD.
By Bobby Henderson
I am writing you with much concern after I read of your hearing to decide whether the alternative theory of Intelligent Design to be taught along with the theory of Evolution. I think we can all agree that it is important for students to hear multiple viewpoints so they can choose for themselves the theory that makes the most sense to them. I am concerned, however, that students will only hear one theory of Intelligent Design.
<more>



CHILD'S PLAY.
By Kara Stanley
My brother sent me a subscription to the British magazine New Scientist last Christmas. I love it. It arrives once a week and sits, like a center piece, in the middle of the kitchen table. Everyone in the family takes turns reading it, each finding, at different times during the week—over coffee and toast, before soccer practice, while the spaghetti sauce simmers—bits of articles that are so awesome we are compelled to read them aloud to one another.
<more>



IN THE NAME OF FAIR GAME...
By Julie Hathaway

Doping to enhance athletic performance happens at every level of the game; lately, we have heard about it in professional baseball, at the Olympics, at other international competitions and even at our local gyms. Performance pressure is ever increasing, especially considering the financial endorsements and sponsorships associated with success. As a consequence, some athletes continue their attempt to better themselves through extensive training, drive and motivation, while others look for a little help from organic chemistry. International and national sports organizations, in conjunction with laboratories around the world are trying very hard to "crack" down on drug abuse in sports. The following is a brief overview of the most popular sport enhancing drugs, how they act biologically to strengthen the body, when they should be tested for and finally, what scientific equipment and methodologies are used for drug testing.
<more>



SIZE MATTERS: THE IMPENDING DEATH OF THE Y CHROMOSOME.
By Andrea Lam

Biblical tradition tells the story of creation with man as the first sex, and woman the second, fashioned from Adam's rib. Biology conveys a different tale for the evolution of the sexes, however, revealing that man, not woman, is the second sex. Recent research in genomics and molecular genetics has shed much light onto the elusive human Y chromosome, suggesting that man may not only be the second to arise, but the first to disappear.
<more>



SIX DEGREES OF BEING SMALL.
By Trisha Cull
The medieval followers of Aristotle, first in the Islamic world and then in Christian Europe, tried to make sense of the moon. It was suggested in Antiquity that the moon was a perfect mirror; its markings were reflections of earthly features.
On Sunday July 16th 2000, the longest-lasting lunar eclipse in 140 years was said to have occurred. The moon plunged for almost two hours dead center through the shadow of Earth.
<more>



THE COMPASSES OF BIRDS.
By Bethany Lindsay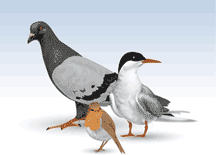 Twice a year, arctic terns make an epic journey. They travel the length of the Earth, from breeding grounds in the high Arctic to their southern habitat in Antarctica and back—a one-way distance of almost 20,000 kilometres[1].
This migratory pattern allows terns to follow their food, and escape extreme winters at both ends of the globe. They also avoid the central latitudes, where the predators are. They have every reason to make the trip, but how do they manage the navigation?
<more>



WHO IS THE GREATEST SCIENTIST OF THEM ALL?
By Patrick Francis

Who is the greatest scientist of them all? With no objective way of comparing scientists from different disciplines and eras the debate has raged for time immemorial leading to more than one disagreement, most notably the 1982 Falkland Islands war which began when Margaret Thatcher refused to even consider General Leopoldo Galtieri's claim that Jonas Salk was one bitchin' scientist. Luckily modern society has produced the perfect measure of a scientist's greatness: the no holds barred cage match in which combatants are locked in a steel cage and exhorted by blood thirsty on-lookers to fight until only one remains standing. History's greatest mind has now been decided via a single elimination cage match tournament from which one undisputed champion has emerged bloody, unbeaten and victorious over 31 other aspiring savants.
<more>



ELSEWHERE AND OVERHEARD
By Caitlin Dowling

"The men are usually very surprised, but the babies seem content."
Caroline Flint of the Royal College of Midwives in the UK, on how babies often suckle their fathers instinctively, as well as their mothers. (Times Online)

"If there was an Olympic team of Bynoe's geckos, there wouldn't be a single male on it. These geckos outperform their sexual relatives by 50 percent. They are the 'Xena: Warrior Princess' of the lizard world."
Kellar Autumn, on the Bynoe's gecko, an all-female line of lizards that clone offspring just as strong as their relatives.
<more>


IMPERATIVE AND INDIFFERENCE.
By Alison Dowsett
Like some animal licking matted fur, the softness of the tongue on the softness of the wound.
The sum of the wounds is a ball that expands according to its own clock, whenever it damn well pleases. Asserts itself always at the beginning of the day, I wake up to it, chattering its bad news into the ether.
<more>


For those that prefer a print version, please download our beautiful pdf file.

(part i pdf)
(part ii pdf)
(part iii pdf)
(part iv pdf)
(part v pdf)

home (again)
about (us)
archive (of stuff)
submissions (or suggest)
notes (on masthead)
bioteach (.ubc.ca)