A SCIENTIST'S GUIDE TO VOTING IN THE CANADIAN FEDERAL ELECTION (IN FLOWCHART FORM) – A SCIENCE CREATIVE QUARTERLY PIN UP (NO. 4)
(CLICK HERE FOR PIN-UP POSTER – pdf file ~177k)
– We suggest photocopying at 129% – LTR to 11×17 –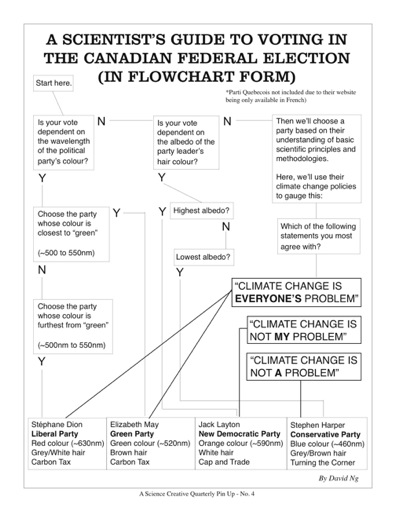 With the Federal Canadian Election is coming up fast! (October 14th), I thought it would be handy to provide a flowchart pin-up detailing the choices you can make based on:
i. Wavelength of the Party's colour.
ii. Albedo of the party leaders' hair colour.
iii. Environmental platform. For a good overview of the policies that each political party favours, go read this.
*Note that the Parti Quebecois is not included in this graphic as I was unable to find out what exactly was their environmental platform.