ANNOUNCING OUR PROFESSIONAL MOLECULAR BIOLOGY WORKSHOP
JULY 21 – JULY 25, 2008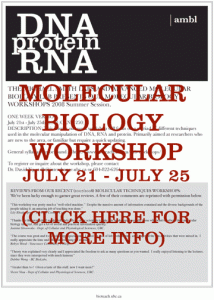 MOLECULAR BIOLOGY TECHNIQUES WORKSHOPS (SUMMER 2008 PROGRAM):
Now accepting registration
To register, please contact Dr. David Ng at db@interchange.ubc.ca
(1) ONE WEEK VERSION
Dates: July 21st – 25th, 2008
Price: CAN$1250 (does not include room or board)
Reviews and Testimonies
Can be found here.
INSTRUCTOR: Dr. David Ng
DESCRIPTION: This intense one week workshop will focus on a myriad of different techniques used in the molecular manipulation of DNA, RNA and protein. Primarily aimed at researchers who are new to the area, or familiar but require a quick updating. Procedures that will be covered both practically and theorectically can be seen in the table of contents of our lecture notes Note that there will be some modification to the content as we update our syllabus for the July session:
ONE WEEK WORKSHOP LECTURE NOTES (previous pdf lecture notes available):
(previous pdf for 1 week lab manual also available)
CONTENTS: (note that the order is due to experiments).
1.1 DNA: Your Friend.
2.1 GENOMIC DNA: What and Why.
2.2 GENOMIC DNA: Cell Lysis.
2.3 GENOMIC DNA: DNA Purification.
2.4 GENOMIC DNA: DNA Precipitation.
3.1 MORE ON DNA: Quantitation.
3.2 MORE ON DNA: AGAROSE GEL ELECTROPHORESIS.
3.3 MORE ON DNA: NUCLEIC ACID PURIFICATION KITS
4.1 Cloning: What is a Vector All About?
4.2 Cloning: Which Vector Should I Use? (Part 1)
4.3 Cloning: Which Vector Should I Use? (Part 2)
5.1 ENZYMES: Restriction Endonucleases (Part 1).
5.2 ENZYMES: Restriction Endonucleases (Part 2).
5.3 ENZYMES: Ligases and Phosphatases – The Jist.
6.1 Transformation/Transfection: Getting DNA into your host.
6.2 PLASMID PREPS.
7.1 PROTEINS: Your "High Maintenance" Friend.
7.2 PROTEINS: The Western Blot – Part 1.
7.3 PROTEINS: The Western Blot – Part 2.
8.1 RNA: Your "unreliable" friend.
8.2 RNA: Isolation and Purification.
8.3 RNA: Gene Expression.
9.1 POLYMERASE CHAIN REACTION – The Jist.
9.2 PCR – A brief tour of the reaction specifics.
9.3 PCR – A brief tour of troubleshooting options.
9.4 REAL TIME PCR.
APPENDIX A: Replication, replication, replication…
APPENDIX B: Hybridization and Stringency for Dummies.
APPENDIX C: A Selection from the Merck Manual.
LOCATION:
Located in the heart of the UBC campus, the Michael Smith Laboratories is a testament to the vision of its founding Director, Dr. Michael Smith. Under his leadership, a gifted team of young scientists were recruited. These scientists have gone on to develop internationally renowned programs of research and training. The second and third floors of the new building are dedicated to the research facilities of the former Biotechnology Laboratory. The Stewart and Marilyn Blusson Education Forum is located on the ground floor and is open to the public. The molecular techniques workshops are held in the teaching lab,room 105 of this forum.
(click here for detailed directions)
REGISTRATION DETAILS:
Registration is essentially through first: an email inquiry for space (db@interchange.ubc.ca), second: a verbal commitment and then third via payment. Your place is essentially secured with payment, which more or less equates to a first come first serve mechanism. This payment would be a CAN$1250 cheque (or equivalent) payable to "The University of British Columbia" and sent to
Dr. David Ng
Michael Smith Laboratories
301-2185 East Mall,
University of British Columbia
Vancouver, BC, CANADA V6T 1Z3
If you prefer us to send an invoice, please let us know and we can arrange that accordingly. Note that we can accommodate a maximum of 16 clients, but on occasion up to half of these spaces are already reserved for predetermined group clients. Therefore, it's best to put your name down as soon as possible if you are interested in the workshop.
REFUND POLICY
Your spot in the workshop is secured when we receive your payment. The deadline for receipt of payments is 3 weeks prior to the workshop start date. Unfortunately, we are unable to issue any refunds after this deadline has passed.
DAY TO DAY SCHEDULING DETAILS:
Workshop will begin each day at 9am sharp and usually end around 5:30pm. A detailed final schedule and syllabus will be released to clients as the date draws nearer.
MATERIALS:
All paper materials will be provided on the first day of the workshop. Downloadable versions will be available a week before the workshop begins. Whilst we do not require the clients to "study" these documents, we do ask that clients take a moment to peruse the first day practical materials. Please also bring a lab coat – if one is not available, please let us know and we will make arrangements accordingly. All other safety gear is provided at the workshop.
ACCOMODATIONS:
Here are some accomodation options that are basically on campus. Costs involved would vary (I think the most budget option would be the Vancouver Youth Hostel which is about a 15minute bus ride away). The closest would be those of Gage through UBC conferences. The others (except for point grey house) are all a relatively short walk away.
International Youth Hostel at Jericho Beach
UBC accomodations (on campus – note there are only 47 available)
St. John's College (on campus)
Green College (on campus)
St. Andrew's Hall (summer only)
Point Grey House (off campus, but only 10 minute bus ride away)
Alternatively, Downtown Vancouver offers a variety of accomodation options, but would entail about a 30-40minute bus ride each way. Depends on your preference since the Campus is pretty quiet at night time, whereas other areas would be more lively. Go to www.expedia.ca, and select:
hotel > near an attraction/vancouver > type in "University of British Columbia"
Usually the out of town clients make use of a little extra time after or before the workshop in visiting some of the sights Vancouver has to offer. I often strongly recommend this since the city and surrounding locale are really quite spectacular. In particular Whistler Blackcomb is a world famous ski/outdoor resort, and is only a 2 hour drive away. Ski season usually opens in mid November (click here for more info)