ANNOUNCING: SCIENCE SCOUTS NOW ON FACEBOOK
science scouts home | facebook group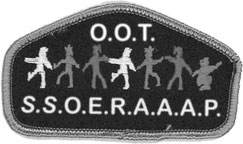 We are delighted at the awesome response for the Science Scouts (many thanks to BoingBoing in particular), and are truly inspired by the many who view scientific literacy and badges with such passion.
In order to best manage the many individuals who would like to keep up with the OOTSSOERAAP's comings and goings, we've decided to set up a facebook group (link), which will hopefully result in some form of percieved order.
Anyway, we did recently add more badges and have a total of about 80 or so. As well, through the mystery of web degrees of separation, our anthem (the brilliant, "Increase the N" by HEFE) made an appearance at Nature (it's true).
So go check it out. Join the group. Suggest a badge. And, people, keep talking science.