JOURNAL CLUB FIND: SEXUAL ORIENTATION? LET'S LOOK AT YOUR FINGERS.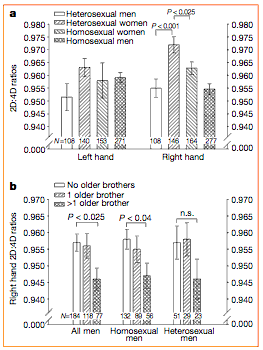 (Click on reference to see pdf of first page)
REFERENCE:
Finger-length ratios and sexual orientation. (2000) Nature 404: pp455-456
FIRST PARAGRAPH:
Animal models have indicated that androgenic steroids acting before birth might influence the sexual orientation of adult humans. Here we examine the androgen-sensitive pattern of finger lengths, and find evidence that homosexual women are exposed to more prenatal androgen than heterosexual women are; also, men with more than one older brother, who are more likely than first-born males to be homosexual in adulthood, are exposed to more prenatal androgen than eldest sons. Prenatal androgens may therefore influence adult human sexual orientation in both sexes, and a mother's body appears to "remember" previously carried sons, altering the fœtal development of subsequent sons and increasing the likelihood of homosexuality in adulthood.