BUILDING A "SUSTAINABLE" GINGERBREAD HOUSE: THE CONTEST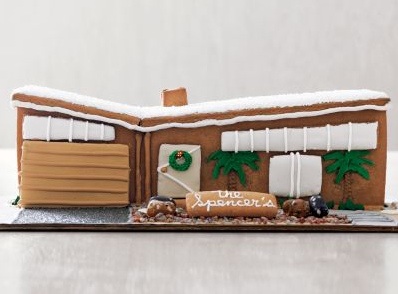 (image source)
O.K. So the deal is that it's the holidays – and soon the whole merriment parade will be kicking into high gear. This includes a number of things that I bet many households end up going through. Things such as:
1. the strategic maneuvering of the mistletoe locale.
2. watching the antics of nasally sounding claymation elves,
3. arguing over the relative merits of putting raisins in the stuffing,
4. real tree, fake tree, or no tree.
5. debating the necessity of the feature length Grinch movie,
6. figuring out what did "my true love give to me" on the eleventh day?
And 7, that opportunity for all of us to play the role of an amateur architect – (drum roll please) the building of the gingerbread house. Usually, the directions taken here, tend to veer towards one of two extremes: (1) a somewhat childish semblance of four walls, a roof, and a freakish amount of candy, or (2) you think you're Martha Stewart or something.
So let's instead try a different tact. Here, we're looking for your take on a "sustainable" gingerbread house. Rules are found at www.bakeforachange.com, but basically the premise in a nutshell is: apply sustainable building design practices to a gingerbread house.
Anyway, Dave S. has set up a Flickr site to collect entries, and we're hoping to see some spectacular houses. Spread the word – we have a few prizes to give out, but really, the process is the thing you see.