Charity Wanjiku: Empowering with Power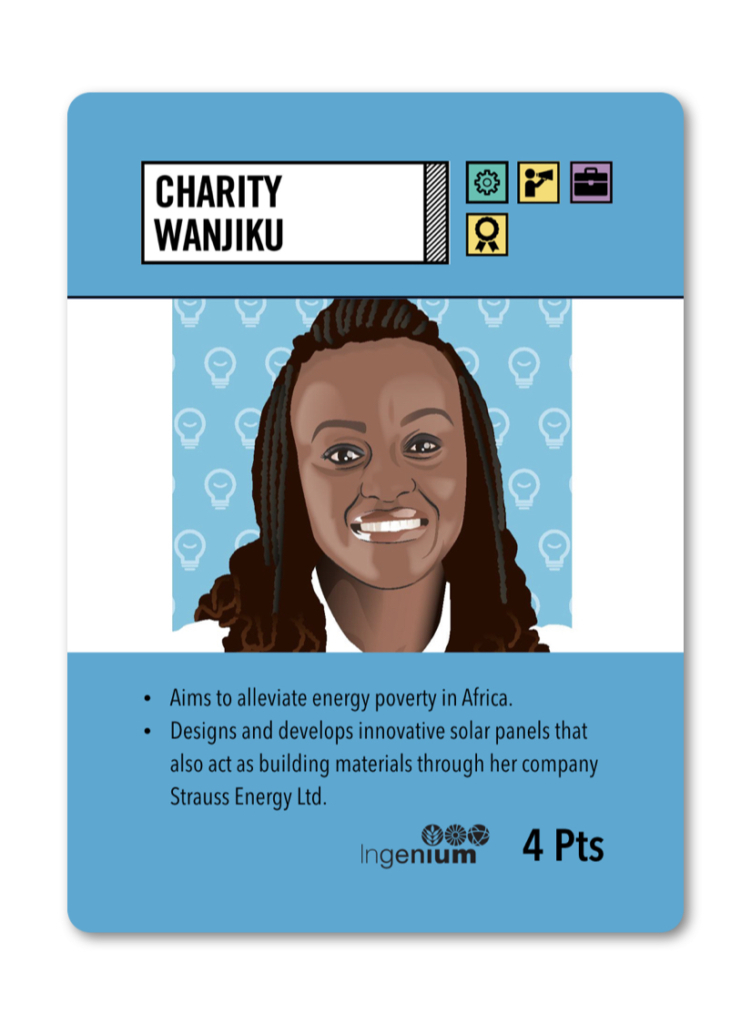 Kenyan native Charity Wanjiku was first inspired to study architecture at the age of 10 when she saw a TV commercial for an insurance company where a businesswoman was presenting a model house to a boardroom of applauding men.
Determined to pursue her passion — despite the fact that very few women enrolled in architecture courses — Wanjiku eventually graduated from the Jomo Kenyatta University of Agriculture and Technology with a Bachelor of Architecture degree. Later, she earned her Master's degree in Project Management in Construction.
It was at her first job where she discovered her interest in project management. This, coupled with her architectural expertise, made her the perfect partner for her brother, Tony Nyagah, who held a Master's degree in Energy Management. Together, they sought a solution to the energy deficit experienced by businesses and households in Kenya.
Based in a country with up to 10 months of sunshine per year, their company, Strauss Energy, uses Building Integrated Photovoltaics (BIPV), which are functional building materials with built-in solar panels that convert sunlight into energy. With these innovative designs, the very walls, windows, and roofs of new homes have the ability to generate electricity. Compared to traditional solar panels, BIPV technology is more durable and cost efficient.
As the chief operations officer, Wanjiku's day-to-day activities include writing proposals, seeking strategic partners, meeting with investors, and visiting sites. When she's not working, she can be found outdoors running, hiking, or mountain climbing.
Wanjiku actively encourages girls to pursue their passions and challenge stereotypes. A role model herself, she recalls when a group of girls in Muranga, Kenya, saw her in safety gear up on the roof of their school, doing so-called men's work. She believes that it is important for women to be visible and vocal so that people know barriers can be broken.
In 2018, Wanjiku landed on the Forbes list of the World's Top 50 Women in Tech. In 2018, Wanjiku was listed in Forbes Top 50 Women in Tech in the World and awarded African female tech entrepreneur by the World Economic Forum in 2017. She was also nominated as Business Woman of the Year by the All Africa Business Leaders Awards (AABLA) in the same year. Wanjiku was also named as one of the 40 most influential women in Kenya under the 2016 Business Daily Top 40 Under 40. In the same year, Strauss Energy won in the People's Choice category of the Global Innovation Through Science and Technology competition.
* * *
This is part of Ingenium Canada's Women in STEM initiative. For more information and links to other great profiles, click here.
Card art by nineSixteen Creative Inc. You can see more of their work here.
This Charity Wanjiku card is part of the Ingenium Women in Science and Engineering trading card game. You can download the game for free in both English and French. You can watch the "how to play" video here. You can also purchase a professionally printed deck (at revenue neutral prices) at the following link – English/French. Full details about this STEM game and others, can be found here.
Download a high-resolution poster PDF. Recommended print size is 11X17 inches.
Poster Charity Wanjiku
Want to learn about challenges faced by developing regions, STEM and the gender gap? Use Charity Wanjiku's poster and this resource guide to explore further.
Unit 5 WiS Wanjiku EN