Eugenia Duodu: Inspired, Elevated and Empowered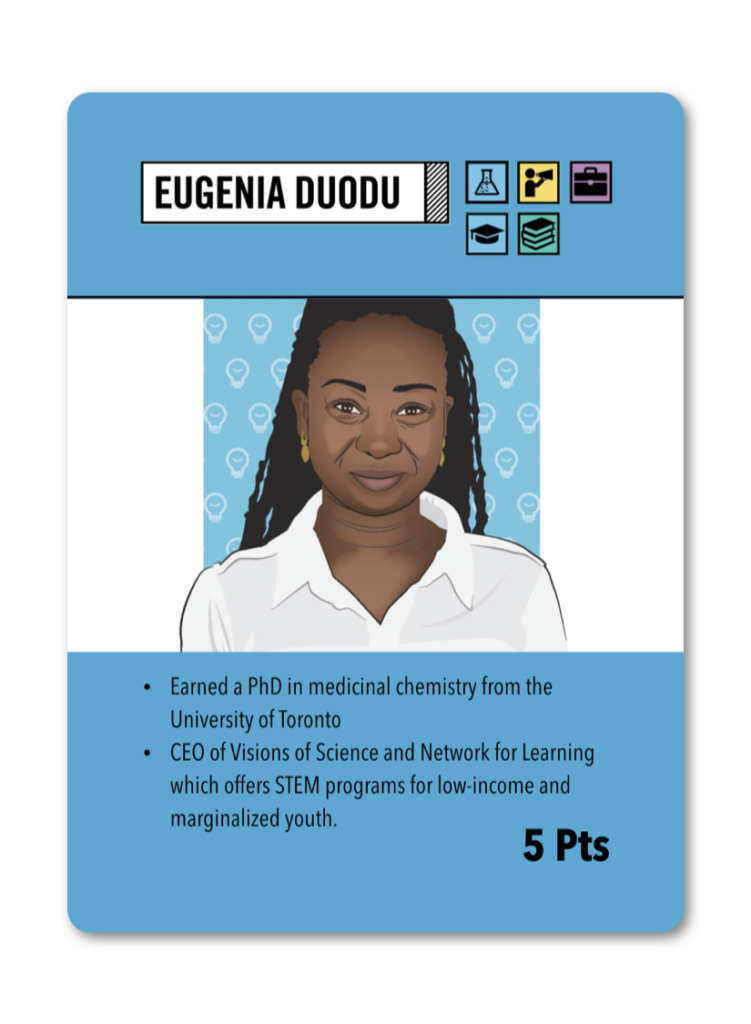 Dr. Eugenia Duodu earned an honours Bachelor of Science degree in Chemistry and Biology from the University of Toronto in 2010, and proceeded to study medicinal chemistry as a PhD student. Fueled by her passion to improve life for others, her research focused on providing effective treatments for human diseases such as cancer.
Having grown up in a low-income community and experiencing numerous disparities to enriched science-based opportunities, Dr. Duodu sought out ways to share STEM with her community. It was at this time that she signed up as a part-time volunteer with Visions of Science Network for Learning Inc. (VoSNL). After earning her PhD in 2015, she became the full-time CEO of the organization. As CEO, she strives to maintain strong ties with the community and unlock the potential of participating youth.
A charitable organization, VoSNL aims to increase the equity of access to STEM. Through various clubs and programs, it provides learning opportunities to low-income and marginalized youth interested in STEM, while simultaneously offering them positive support and mentorship. Since 2004, VoSNL has engaged over 11,500 participants and currently reaches 750 youth from 24 communities located in the Greater Toronto Area on an annual basis.
* * *
This is part of Ingenium Canada's Women in STEM initiative. For more information and links to other great profiles, click here.
Card art by nineSixteen Creative Inc. You can see more of their work here.
This Eugenia Duodu card is part of the Ingenium Women in Science and Engineering trading card game. You can download the game for free in both English and French. You can watch the "how to play" video here. You can also purchase a professionally printed deck (at revenue neutral prices) at the following link – English/French. Full details about this STEM game and others, can be found here.
Download a high-resolution poster PDF. Recommended print size is 11X17 inches.
Poster Eugenia Duodu
Want to learn how poverty can impact those in STEM, particularly women? Use Eugenia Duodu's poster and this resource guide to explore further.
Unit 5 WiS Duodu EN