Nadine Caron: Barrier Breaking Surgeon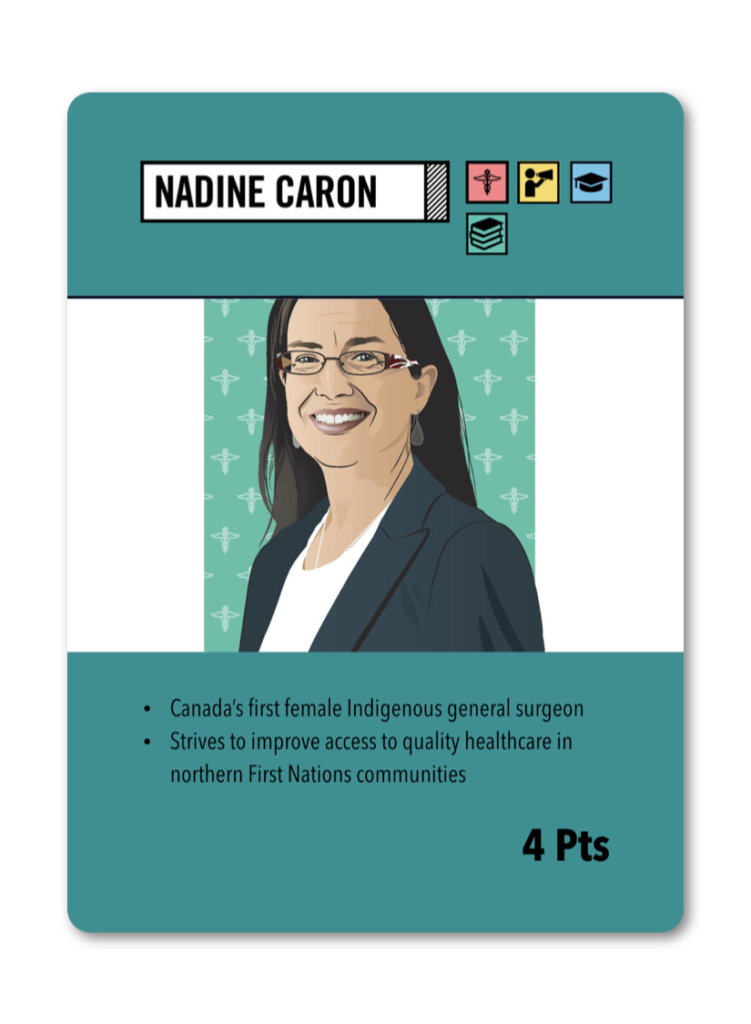 Dr. Nadine Caron was born in Kamloops, British Columbia.
In 1993, she earned her Bachelor of Science degree in Kinesiology at Simon Fraser University, where she was also a star basketball player. From there, she entered medical school at the University of British Columbia, eventually graduating at the top of her class and becoming the first First Nations woman to graduate from the program.
Dr. Caron proceeded to Harvard University, where she earned a Master's degree in Public Health. She went on to the University of California, San Francisco to complete her postgraduate fellowship training in Endocrine Surgical Oncology.
In 2005, she moved back to BC to work as a General and Endocrine Surgeon at the University Hospital of Northern British Columbia, becoming the first Canadian female general surgeon of First Nations descent.
In 2014, Dr. Caron was appointed founding co-director of the University of British Columbia's Centre for Excellence in Indigenous Health (CEIH), which aims to promote Indigenous leadership in healthcare and to improve the health and wellness of Indigenous peoples through education, research, and support for Indigenous students and communities in these arenas. Traveling to various communities to talk about the importance of staying in school, she considers mentoring students a top priority.
In addition to serving on numerous committees, Dr. Caron is an associate professor at UBC in the Northern Medical Program. As an influential faculty member, she champions for UBC to be a safe space where Indigenous heritage and history is respected and celebrated.
Understanding the impact post-secondary institutions can have in addressing racism and shaping responsible professionals, Dr. Caron and her team at the CEIH have worked to create mandatory training in cultural competency and cultural safety for UBC's health sciences students. While she acknowledges that there's still work to be done, she is optimistic about the future.
In 2017, Dr. Caron received an honorary Doctorate of Laws from the University of the Fraser Valley. She was also named one of Maclean's 100 Canadians to Watch.
* * *
This is part of Ingenium Canada's Women in STEM initiative. For more information and links to other great profiles, click here.
Card art by nineSixteen Creative Inc. You can see more of their work here.
This Nadine Caron card is part of the Ingenium Women in Science and Engineering trading card game. You can download the game for free in both English and French. You can watch the "how to play" video here. You can also purchase a professionally printed deck (at revenue neutral prices) at the following link – English/French. Full details about this STEM game and others, can be found here.
Download a high-resolution poster PDF. Recommended print size is 11X17 inches.
Poster Nadine Caron
Want to learn about the challenges faced by Indigenous, remote and northern communities in STEM? Use Nadine Caron's poster and this resource guide to explore further.
Unit 5 WiS Caron EN