JOURNAL CLUB FIND: MEDICINE WITH A DOSE OF "D'OH!"
It's reading week!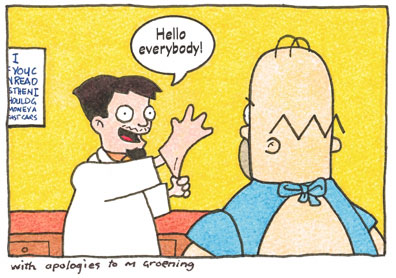 REFERENCE:
D'oh! An analysis of the medical care provided to the family of Homer J. Simpson (1998) Canadian Medical Association Journal, 159, 1480-1481 (2 page pdf)
FIRST PARAGRAPH:
These are hard times for physicians. Governments blame doctors for spiralling health care costs as they slash spending. Ethicists decry medical paternalism. Our patients — sorry, our clients — demand to be treated like consumers. And political correctness has changed the way we speak. It's enough to give your average doctor an identity crisis. Who are we? Who should we aspire to be?
Working on the premise that life imitates art, we searched for and found a role model for physicians to follow in these difficult times. We found him in a long-running cartoon series, The Simpsons, and spent many hard hours in front of the television, collecting and collating data for analysis. We hope readers will give our conclusions the attention they deserve.