ON KINGDOMS AND THE GALAPAGOS ISLANDS: A TREATISE ON DARWIN'S CONTRIBUTIONS TO MODERN ECOLOGY AND EVOLUTION IN CAKE FORM
ABSTRACT
We present a cake with layers representing the five Kingdoms according to Whittaker (1969; Animalia, Plantae, Fungi, Protista, and Monera; Figure 1). The cake is shaped as a pyramid embodying the dynamic and complex trophic interactions within ecosystems and also symbolizing to the volcanic Galapagos Islands where Darwin travelled and developed his evolutionary and ecological theories (Darwin, 1859; in particular the volcano Mt. Darwin). Also on the cake (Figure 2) you will find: Darwin's boat the SS Beagle, a nest, egg and finch representing Darwin's theory of Natural Selection, Gus the Giant Tortoise, and fissures in the cake layers signifying plate tectonics and Darwin's interest in geography.
METHODS
Cake recipes include:
Monera – probiotic yogurt cake
Protista – green kelp diatom cake
Fungi – polish yeast cake
Plantae – zucchini cake
Animalia – honey cake
Genetically modified icing, coconut finch nest, Japanese white chocolate almond ptarmigan egg and spinach seaweed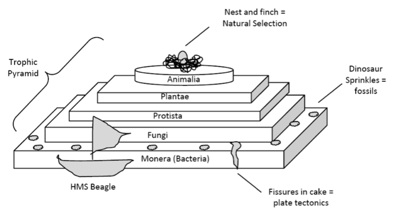 Figure 1. Structural model of Darwin Day cake.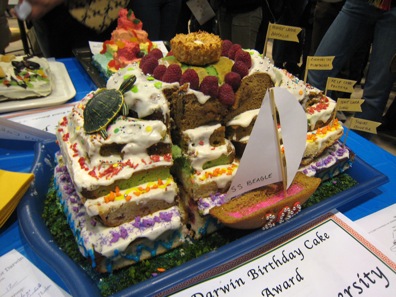 Figure 2. The Cake! (image credit)
REFERENCES
R. H. Whittaker (1969). "New concepts of kingdoms of organisms". Science 163: 150–160. link
Darwin, Charles Robert (1859). On the Origin of Species by means of Natural Selection or the preservation of favoured races in the struggle for life. John Murray: London, England.
AUTHOR AFFILIATIONS
Charlotte Adamson1,3, Alaine F. Camfield 1, Amanda B. Edworthy 1, Meagan M. Grabowski 1, Michaela Martin 1, Isla H. Myers-Smith 1,2, Andrea R. Norris 1, Natalie L. Stafl 1, Kathy Martin 1
1. Martin Lab, Faculty of Forestry, Department of Forest Sciences, University of British Columbia
2. Department of Biological Sciences, University of Alberta
3. Department of Biology, Simon Fraser University