QUESTIONS! QUESTIONS FOR A PRICK!
The Science Creative Quarterly is seeking wondrous, thought provoking, and potentially slightly silly science questions. These we hope to present to our esteem Bill Hick, the Science Prick, who in turn will attempt his best to answer them in due course.
As well, know that a little meat with regards to the questions submitted wouldn't hurt. And to attract such queries, we would like to make this request for questions our October monthly book contest. This time around, the prize is Edwina, The Dinosaur Who Didn't Know She Was Extinct by Mo Willems. This seems just about right, since Edwina is admittedly the complete opposite of Bill Hick the Science Prick in almost every conceivable way.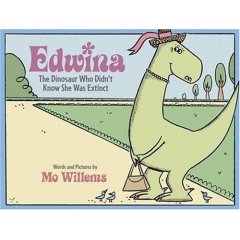 Please submit questions to tscq@interchange.ubc.ca. Submissions deadline is midnight, October 31st, 2007.