THE SCIENCE CREATIVE QUARTERLY'S MOST EXCEPTIONAL, ILLUSTRIOUS, SPLENDIFEROUS HAIKU PHYLOGENY PROJECT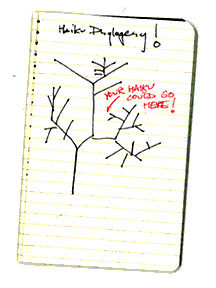 Essentially, for a while, the SCQ has been interested in presenting a phylogeny related section, which would use some type of creative form as its driving force. And why not haikus (or is it Haiki?). So this is essentially a call for some Haiku's on various organisms, preferably ones that work in the phylogenetic context.
Can you imagine it? A phylogenetic database derived solely from 5,7,5 syllabus prose. Should be quite interesting, and hopefully, we'll be able to set something up so that Haiku submissions can be dynamic (i.e. real time).
Anyway, to get your creative juices rolling, here is a sampling that have come in so far:
DROSOPHILA MELANOGASTER DISASTER
fruit fly punnett squares
tic-tac-toeing genotypes
gives birth to Mothras
~Scheherazade
THE HAIKU CHEAT
Tyrannosaurus
Is a bitch for a haiku
Too many sybbles
~Paul Clarkson
UNTITLED
Cynics declare that
The vestigial organ
Is the human brain.
~Jonathan Cohen
OSTRICH
Plumply arching in
the dry Aussie African savanna,
head stuck in the ground
~Robert Isenberg
E.COLI IN MY BUTT
I learnt this today
there's e.coli in my butt
also in my gutt
~Henry James