TOWARDS SUSTAINABILITY: DOES SCIENCE MATTER?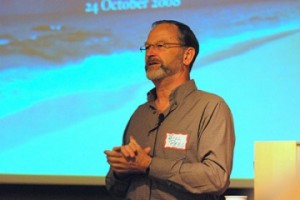 — Watch/Download the movie (~168Mb mpeg file) | image from here —
– – –
Dr. William Rees.
Professor, School of Community and Regional Planning.
October 24th, 2008
"It's Your Experiment!" Science Teacher Conference.
Michael Smith Laboratories, UBC
– – –
Description: A 30 minute lecture looking at whether science is enough. And if not, what elements of human behaviour are dictating or thwarting our efforts towards a sustainable future.
Prof Rees' teaching and research focus on the public policy and planning implications of global environmental trends and the necessary ecological conditions for sustainable socioeconomic development. Much of this work is in the realm of human ecology and ecological economics where Prof Rees is best known as the originator of 'ecological footprint analysis.'