THE BREAK BEFORE YEAR TWO STARTS. A LIST OF STUFF FROM FREQUENT CONTRIBUTORS. FIRST UP – THE EDITOR
As the SCQ begins to ready itself for year two, over the next few days, we will be presenting lists of likable (or non-likable) things by our most frequent contributors.
– – –
– PART I: A HAIKU –
To be a poet
is a major stretch for me.
See – this haiku bites
– PART II: TEN LINKS –
"
How To Tell People That You Are A Billionaire Without Sounding Obnoxious
," by Wendy Molyneux. This is basically the piece that piqued my interest in McSweeney's and ultimately led to the pursuit and success of getting a few in their hallowed halls. In no way a personal character assessment.
I met Stephen Lewis a few months ago, and was just blown away by his passion for those suffering from the plight of HIV/AIDS. Really inspiring person to see, so this here is a link to an audio file of the talk he gave for UBC.
Recently, I entered the world of blogging, setting up shop over at Seed's ScienceBlogs. Anyway, it's been good fun, especially since I've been tag teaming writing duties with Ben Cohen (another McSweeney's afficionado). Here is a portal and pseudo explanation of the blog, which Ben named, The World's Fair.
This essay by David Orr rocks.
For good old fashion procastination, I suggest Harper's Indexes, McSweeney's Lists, and, of course, the SCQ's own humour archive. That's three links, right? Oh wait, how can I forget Boingboing. Make that four.
Sometimes, my best inspiration comes from science, but more often than not, it's my family.
– PART III: TWO PICTURES –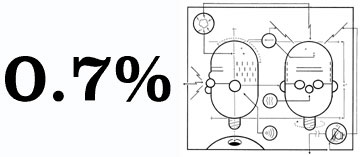 (Image on the right was found on the web, attributed to Chris Ware).